Scroll down for links to buy music, books, or view free streaming songs and video!


---
BUY MUSIC

iTunes! click here to Download album and singles from iTunes!
---
CD Mail Orders:
Click 'Add to Cart' for mail-orders direct from Tim via PayPal or Credit Card:
Canadian CD mail-orders direct from Tim via Interac E-Transfer!: send e-transfer to: timberji@yahoo.ca
(CDs are $20 CAD each + $2 shipping (FREE shipping for 2 or more CDs)

---
Follow Tim on Spotify for free!
---
SONGS


Album Sampler- Video

Tim's newest album '

Tears Along The Road'

...

selected in the

Top 25 Albums of 2015

(all genres)

by Music Canada!

Coming soon to a venue and radio station near you!

---
---
Free full-length Audio PLAYS! with links to lyrics & liner-notes
'Tears Along The Road' (11 songs)

Dedicated to the community of High River, Alberta after the devastating flood of June 2013


---

---
Other Songs
No Cigarettes: single available on CD Baby and iTunes only

Demo from "Comin' Home" c2005 - free download!

---
Everday Heroes - a national best-seller!
Buy "Everyday Heroes" at Indigo, Amazon, or signed copies from Tim via E-Transfer or PayPal!

Tim is a contributing author to this new book published by Simon & Schuster Canada!
Mail order copies will be signed and include a download card ($10 value)
​for Tim's full-length album "Tears Along The Road"!
Order now! Only $20.00 *CAD plus shipping ($15.50 anywhere in Canada, $18.50 anywhere USA)
*Note: Retail price in store is $24.95 CAD
email: timberji@yahoo.ca for info, or order via PayPal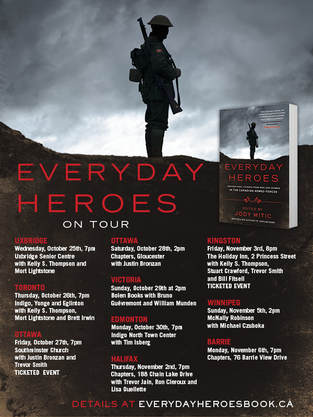 ---
VIDEOS

Live jam recorded in a cozy pad on a snowy winter's afternoon

---
3 minute Album Sampler


New Moon Folk Club - Edmonton, Canada


'The Voice' performed as a duo at The Willows Music Festival


Solo - Yardbird Suite, Edmonton, Alberta Oct 2015


CD Release - Yardbird Suite, Edmonton Oct 2015


Celtic Jam - Kabul, Afghanistan


Acoustic solo at the Tel Aviv Folk Club
​(AKA the Performing Arts basement bomb shelter)

Before the flood...Original song "Run" at Gitter's Pub, High River, Alberta

Duo with Mark Koenig: concert series, Creston BC

---
OTHER NEAT LINKS



---

---

---

---